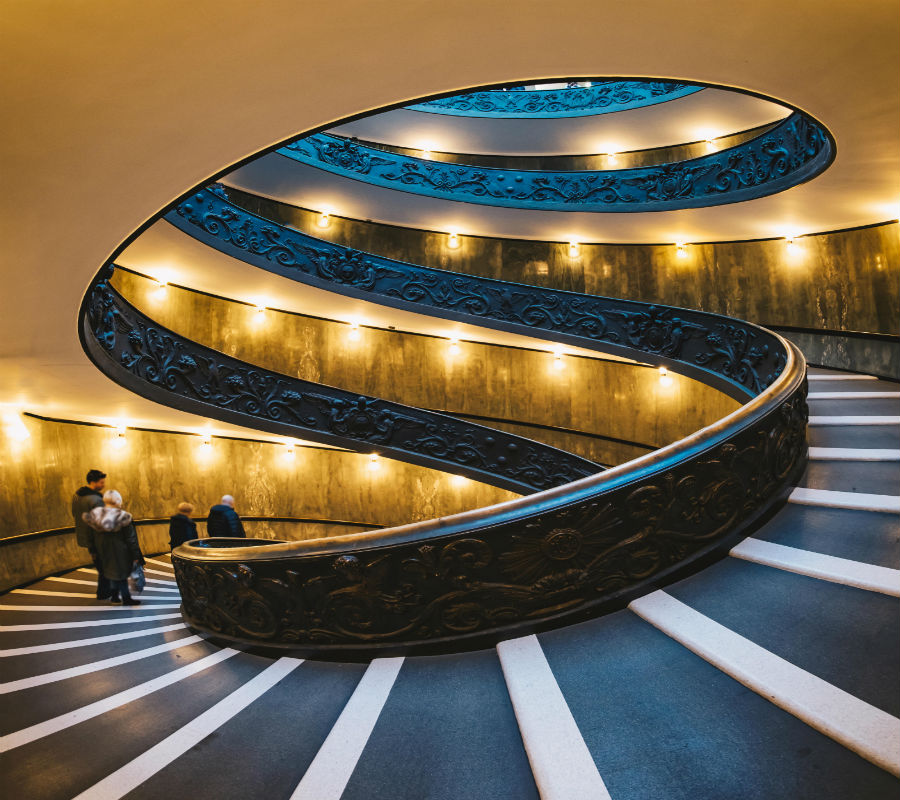 Tickets to the Vatican Museums and the Sistine Chapel
Opening hours
The Vatican Museums are open from Monday to Saturday from 8.30 AM to 6 PM. The museum entrance and ticket office close at 4.00 PM. The museums are closed on Sunday, except for the last Sunday of the month when admission is free, as long as it does not interfere with a holiday. For the calendar of Vatican Museums 2020 click here…
Ticket price
Normal tickets: 17 euros plus 4 euros no line fee.
Reduced tickets: 8 euros plus 4 euros no line fee.
People entitled to the reduced-price tickets are:
Children and youth from 6 to 18 years of age;
Students from 19 to 26 years of age upon presenting a valid student ID at the ticket desk;
Catholic clergy, upon presentation of a valid church identification document.
People entitled to the free tickets are:
Children up to 6 years of age;
Disabled people with over 74% disability, upon presenting a valid ID card plus one accompanying person;
Directors of museums;
Heads of ministries of culture and art;
FPA journalists, Ordine Nazionale Italiano dei Giornalisti;
Holders of a valid ICOM or ICOMOS card;
Members of the "Patrons of the Arts – Vatican Museums"
How to buy the tickets:
No line tickets to the Vatican Museums are available online, on the Vatican Museums website approximately three months in advance. Click here to buy the tickets…
How to place an order:
CLICK THE LINK ABOVE
CHOOSE: ADMISSION TICKETS
CHOOSE: VATICAN MUSEUMS AND THE SISTINE CHAPEL
CHOOSE: MONTH YEAR and PARTICIPANTS (total number of participants except those having free admission)
CHOOSE: DATE IN CALENDAR
CHOOSE: AN HOUR
CHOOSE: TICKET TYPE
PAY WITH A CREDIT CARD
In the high season (March through October) there is a shortage of tickets on the official website of the Vatican Museums. In this case I recommend buying tickets from the resellers (tickets resellers are more expensive than those sold on the website of the Vatican Museums, but therefore they're almost always available):
Additional fees:
From August 1, 2019, the express passage from the Sistine Chapel to St. Peter's Basilica is only possible in the presence a licensed tour guide and costs an extra 1.50 euros per person. This fee is to be paid in cash on the day of the tour.
Important information:
To enter the Sistine Chapel and St. Peter's Basilica you must respect a certain dress code. The following outfits are NOT ALLOWED:
Swim suits;
Short skirts or dresses revealing the knees;
T-shirts revealing shoulders or belly button;
Shorts revealing the knees.
It is prohibited to bring inside:
Alcoholic beverages;
Glass bottles;
Any sharp weapons and materials hazardous to health and life.
Before entering the Vatican Museums you MUST DEPOSIT:
Bags and backpacks in sizes exceeding 40 x 35 x 15 cm;
Large, non-folding umbrellas with a skewer;
Tripods for cameras and camcorders.
Strollers for children are allowed although they are not recommended due to the massive number of stairs that you have to climb during the tour.
The museums have specific routes for disabled people in a wheelchair.
Contact of the Vatican Museums:
Address: Viale Vaticano 102, 00165 Roma – Italia
Tel. +39 0669884676 – 0669883145
Mail: info.mv@scv.va