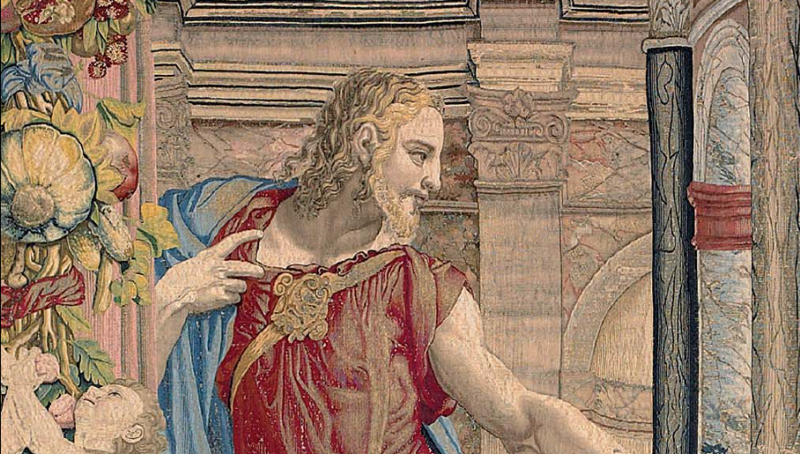 Tapestries at the Quirinal palace
Rome tour guide Jowita Ludwikiewicz recommends a magnificent exhibition of tapestries entitled "Il principe dei sogni" – "The dreaming Prince." The exhibition of tapestries is held at the Presidential palace in Rome on Quirinal hill and will run till the 12th of April 2015.
In the darkness of the Pauline Chapel at the Quirinal palace you can see the impressive figures woven out of silk and golden thread. The tapestries date back to the Renaissance period, to the time of Cosimo I de 'Medici. It was Cosimo's court artists Bronzino, Pontormo and Francesco Salviati who designed the pattern while John Rost and Nicholas Karcher were the ones who transferred it on silk.
The twenty tapestries on display return to the presidential palace for the first time after almost 150 years. When the Roman exhibition will come to an end the tapestries will go on to the Expo in Milan and will be presented in the Hall of Caryatids at the Palazzo Reale. In August 2015 they'll return to "Palazzo Vecchio in Florence.
As said these tapestries were made upon command of Duke Cosimo I de Medici, who was a prominent patron of the arts in the 16th century Florence. His figure is identified with the biblical hero Joseph a man of exceptional courage from the book of Genesis. Joseph becomes the main character for the whole cycle of tapestries. The beloved son of Jacob when young was betrayed and sold by his brothers to the Egyptians. However thanks to his great intellect Joseph became a counselor of the king of Egypt. He survived slavery and imprisonment and eventually became a wise leader and a brilliant politician.
Admission to the tapestry exhibition "Il principe dei sogni" – "Dreaming Prince" at the Quirinal palace is free of charge. The opening hours from Tuesday to Saturday (10 am – 1pm and 3.30 am – 6.30 pm), on Sunday from 08:30 am to 12:00 pm. Closed every Monday. More about the exhibition at the Quirinal palace click here …
[google-map-v3 shortcodeid="181e2ad0″ width="567″ height="350″ zoom="12″ maptype="roadmap" mapalign="center" directionhint="false" language="default" poweredby="false" maptypecontrol="true" pancontrol="true" zoomcontrol="true" scalecontrol="true" streetviewcontrol="true" scrollwheelcontrol="false" draggable="true" tiltfourtyfive="false" enablegeolocationmarker="false" enablemarkerclustering="false" addmarkermashup="false" addmarkermashupbubble="false" addmarkerlist="Piazza del Quirinale, 00187 Roma{}6-default.png{}Quirinal palace" bubbleautopan="true" distanceunits="miles" showbike="false" showtraffic="false" showpanoramio="false"]
* photo from page: http://www.comunicareorganizzando.it/mostra/1003/