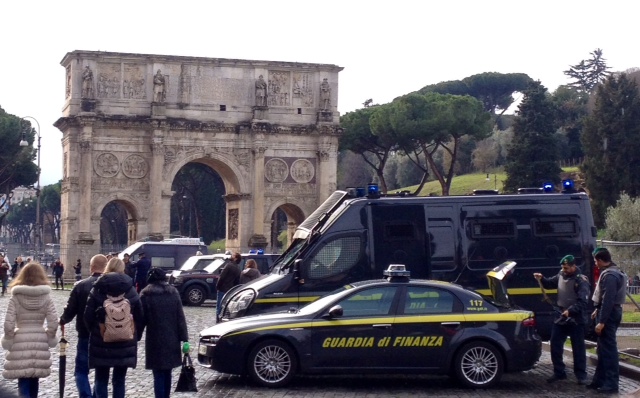 Safety in Rome
Safety in Rome
Despite the recent events that took place in Paris and the following terrorist threats to hit Rome, tourists and residents of the Eternal city can feel safe.
In the last couple of weeks in the capital of Italy the amount of security has notably increased both on the streets as well as at railway stations, airports and embassies. This improves the overall safety in the city and creates a deterrent for small time criminals as pickpockets.
The locals say
Roman tour guide Jowita Ludwikiewicz informs that there are also some changes taking place at the major tourist attractions of the city. In fact due to increased security measures at the entrance of the Coliseum and the Basilica of St. Peter huge lines of tourists are forming outside. So if you're planing to visit to any of those attractions make sure to arrive with a good armed with patience.
Safety in Rome at the entrance of important sights
In particular at the entrance of the Basilica of St. Peter police officers control not only bags, but also thick overcoats jackets and belts, just like at the airport. Control is tougher than ever. Of course all dangerous, sharp objects such as scissors, nail files and pocket knives are not allowed in. So make sure to leave all those items at the hotel.
Also, before entering the Coliseum you have to pass a security check. The police officers are stopping from entering all tourists with large bags, big backpacks and suitcases.
These increased safety in Rome procedures slow down the tourist flow at the most famous tourist sights but they also contribute in making everyone feel safe and allow tourist to tranquilly enjoy the beauty of Rome. So what are you waiting for? Buy your ticket to Rome and head over to discover the Eternal city.