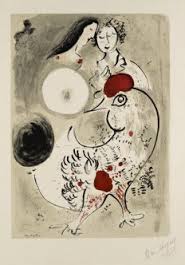 Marc Chagall Love and Life
Marc Chagall Love and Life
Rome Tour guide Jowita Ludwikiewicz recommends the Marc Chagall Love and Life exhibition which will open shortly in the cloister of Bramante – chiostro del Bramante. The works of Marc Chagall a Russian painter of Jewish origin, will be presented at the exhibition Love and Life from 16 March to 26 July 2015.
More than 150 works – including paintings, drawings and prints – from the Israel Museum in Jerusalem, will take you through the creativity of Marc Chagall. Love and Life exhibition is about Chagall's life and about the unique bond between the artist and his wife, Bella Rosenfeld who was a constant and primary source of his inspiration.
The exhibition begins with the images from the artist's childhood and youth, passed in the city of Vitebsk. In addition, there will be illustrations from his autobiography "My Life" and books "First Encounter" and "Burning Lights". Then, the exhibit continues and focuses on the artist's more mature works.
The exhibition Marc Chagall Love and Life revolves around the artist's personal experiences as well as around the central themes of his art. All of his canvases in fact are impregnated with the symbols of the Jewish culture such as the goat symbol of hope and confidence or the violinist always present in the important Jewish celebrations.
Marc Chagall exhibition Love and Life will last from March 16 till July 26, 2015, in the Chiostro del Bramante – Via Arco della Pace, 5. Opening hours: every day from 10.00 am – 8.00 pm. Ticket: 14.50 euros. More about the exhibition, click here…
[google-map-v3 shortcodeid="0b519571″ width="567″ height="350″ zoom="12″ maptype="roadmap" mapalign="center" directionhint="false" language="default" poweredby="false" maptypecontrol="true" pancontrol="true" zoomcontrol="true" scalecontrol="true" streetviewcontrol="true" scrollwheelcontrol="false" draggable="true" tiltfourtyfive="false" enablegeolocationmarker="false" enablemarkerclustering="false" addmarkermashup="false" addmarkermashupbubble="false" addmarkerlist="Via Arco della Pace, 5, Roma{}6-default.png{}Marc Chagall Love and Life – Chiostro del Bramante" bubbleautopan="true" distanceunits="miles" showbike="false" showtraffic="false" showpanoramio="false"]