Posted by jowita in Highlights of Rome, SLIDER, Tours, Tours in Rome | 0 Comments
Highlights of Rome tour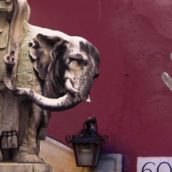 Welcome to Rome! This is the tour you need in order to familiarize with the Eternal city. Walking on your own two feet is the best way to reach all the highlights of Rome!
The tour starts at Piazza di Spagna where you'll see the most international monument of the city, THE STEPS…Why is it such an international place? You'll find out on the tour!
The square in front of the steps is the shopping center of Rome. Here your eyes can feast on the designed treasures that the windows of the most exclusive boutiques of Rome display along via dei Condotti.
The tour then continues on to another important highlights of Rome, the Trevi fountain. No other place on earth has been such inspiration to painters, poets, lovers and directors. In fact it was here that Federico Fellini filmed the famous bathing scene of "Dolce Vita".
Next off to the Pantheon the most impressive remain from the imperial times. A temple for all the Gods of Rome, built by Agrippa, reconstructed by Hadrian and finally transformed into a Christian basilica.
Last but not least visit piazza Navona where amongst the romantic cafes and fancy restaurants you can still spot the hidden traces of its past. In fact below the cobbled surface lay the ruin of the stadium of Domitian, where 2000 years ago the "Agones" athletic games were held.
Guided tour Highlights of Rome itinerary: Spanish Steps, Trevi Fountain, Pantheon and Piazza Navona.
Time of the tour: 2,5 hours.
Best advised time to start the tour: 5.00 pm. 
To book this tour click here…