Posted by jowita in Tours, Tours in Rome | 0 Comments
Christian Rome tour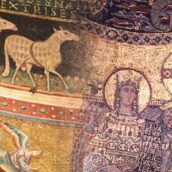 Visit some of the first and most important Christian basilicas of Rome, built in the turbulent times of transition of the Roman Empire from paganism to Christianity.
Start at St. John's in the Lateran "the mother and the head of all churches of the city and of the world". It's the Cathedral of Rome built in the IV century by Constantine the Great, who in addition donated to the pope the adjacent domus ecclesiae, which became the official residence of the popes for over a thousand years.
The only basilica that through more then 1500 years has maintained it's original aspect is St. Mary Major. In the main nave and on the triumphal arch you can admire colorful mosaics that date back to the Vth century AD.
Also St. Paul's basilica outside the walls was erected upon the command of emperor Constantine. Originally it was a small funeral basilica built on the tomb of the Apostle of the Gentiles but in the IVth century thanks to the donations of the Empress Galla Placidia it became the biggest Christian church in the world and remained such till the completing of new St. Peter's basilica in 1626.
Christian Rome tour itinerary: cathedral of Rome St. John in the Lateran, basilica St. Mary Major and basilica St. Paul outside the walls.
Time of the tour: 3 hours. 
Best advised time to start the tour: 9.00 am.