About RV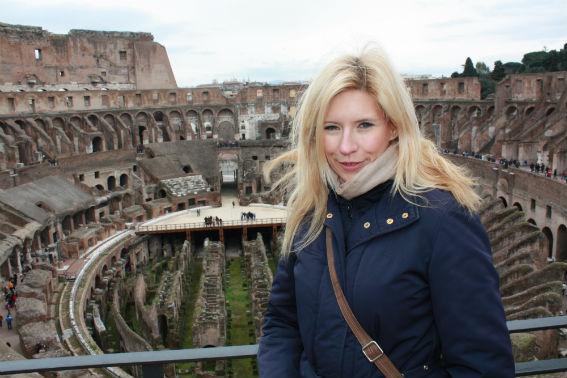 Jowita Ludwikiewicz is my name, this probably makes you wonder about my origins…I'm Polish but it's been quite some time since I left my homeland.
Different events in my life have tossed me around the world, but finally I chose to come to live in Italy. Initially I settled in Florence where I studied the Italian language and culture, topped with some art history classes. But after a year Firenze felt too small so I moved to Rome, which has been my home ever since.
Between Rome and me you can say it was love at first sight. I remember how much I enjoyed passing hours and hours sitting in front of the Trevi Fountain watching the tourists throw coins into the basin to make sure to return to this magnificent city. I recall wondering into the Pantheon where you could almost hear the echo of the imperial footstep bouncing off of the walls. My desire was to get to know every inch of this city, to discover all of its secrets, to walk on all of its streets, to breathe in all of its history…and so I did.
It took years of study, thousands of pages turned, hundreds of books devoured, miles and miles of "sanpietrini" paved streets covered and at least a dozen pair of shoes worn out in the process of accumulating the knowledge necessary to become what the Romans call a "Cicerone," or more commonly, a tour guide.
When I was young I never imagined myself working as a tour guide. Actually I didn't know what I wanted to do in my life. Getting to know the history of Rome was just a hobby, a past time and a pleasure, which over the years has turned into my profession…a profession that I LOVE! To my clients I always say that I have the best job in the world and the most beautiful office in the world… in fact, how many can say they have the Eternal City as their office? What more could you wish for?
So why did I name my web page Roman Vacation? Well because this is what I provide. What I want to give you is, in fact, a Roman Vacation. Not a vacation in Rome but an experience that involves all of the senses. A truly Roman holiday where in combination with learning the history you also learn about the culture, cuisine, language and life of the Eternal city. A good tour guide can really make a difference and can turn a good holiday into a great one!
On my web page you'll find some of the most popular tours that everyone who arrives in Rome must do. But other than those there's the possibility to create customized itineraries just for you based on what your interests and desires are. You can, for example, plan a Romantic tour to celebrate a special event with your loved one, or a scary tour for those of you that enjoy an adrenalin rush, or an underground tour for those that don't suffer from claustrophobia etc…
Rome is a city of unlimited possibilities.  You just have to know whom to turn to.  Roman Vacation is the right place. The right place, and the right guide.